Dr. Gary Schulteis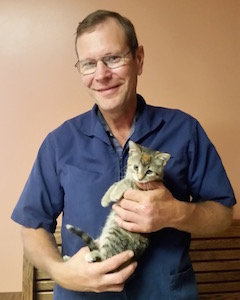 Dr. Schulteis is a 1984 graduate of Kansas State University College of Veterinary Medicine.
After vet school, Dr. Schulteis practiced for a year in Lexington, Nebraska. He then moved to Anthony, Kansas, where he worked as a mixed animal vet for eleven years. In 1996, Dr. Schulteis purchased Adair County Vet Clinic in Greenfield, Iowa and has enjoyed serving area farmers and pet owners ever since!
When he's not busy being a vet, Dr. Schulteis enjoys fly fishing, hunting, and woodworking.
Dr. Melissa Garcia Rodriguez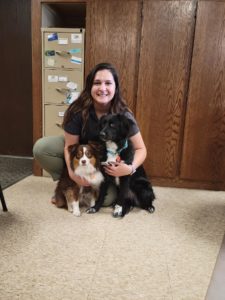 Dr. Melissa is a 2023 graduate of Iowa State College of Veterinary Medicine. She has a BS in Animal Science from Iowa State. She was born and raised in Des Moines, IA and her family comes from Mexico. Her interest is in medicine started in high school, where she was able to raise livestock for showing projects, and has been dedicated to learning more about veterinary medicine and Iowa's ag industry ever since. 
She loves working with all kinds of animals, small or large! Whether it's routine, chronic care, emergency, behavior or welfare.
Dr. Melissa enjoys working with all kinds of animals, but has a soft spot for small and fluffy dogs or ones that go moo. When she is not at the clinic she is hanging out with her two dogs, Lola and Bumblebee. She enjoys cooking and baking, gardening, and relaxing with friends.
Kim, Registered Veterinary Technician
Kim is a Registered Veterinary Technician. She has a BS in Animal Ecology from Iowa State University and received her AS in Veterinary Technology from DMACC in 2006.
Kim's special interests include dental therapy and radiography. Her favorite part of working at Adair County Vet Clinic is how every day is different.
Kim enjoys spending time with her husband, Jonathan, and their sons, Everett and Warren. She also enjoys visiting family and friends, camping, cooking, and cuddling with her cat, Crockett as well as her dog, Aspen.
Jennifer, Registered Veterinary Technician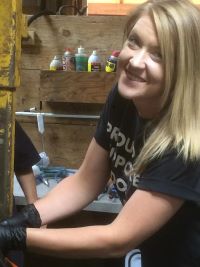 Jennifer is a native of Greenfield, Iowa. She received her Veterinary Technician degree through a distance learning program at San Juan College in Farmington, New Mexico.
Jennifer enjoys assisting with small animal surgery and care. Her special interests are working with large animals and helping with herd work.
Jennifer, her sons, Tyson and Carson, and their dog, Lucy, enjoy spending time with family and friends. They also enjoy raising a small herd of beef cattle.
Erika
Erika helps out around the clinic where she can! Whether it be answering the phone, checking patients in, assisting with small and large animal appointments, as well as attending to the kennel room. She was raised in Fontanelle and went to SWCC for Agricultural Business.
Erika enjoys spending time outdoors and loves all animals, especially her dog, Miya. You can find Erika with her significant other, Ryan, at local dirt tracks and you can find her gardening, enjoying time outdoors with Miya and spending time with family.
Herman
Herman is the vet clinic's public relations cat! When he's not busy greeting clients, he keeps an eye on the clinic's day-to-day happenings and goes to great heights to find a peaceful place for a catnap.